Agency Vs. In-house: Who Should You Hire?
Bold, but true: businesses need social media more than millennials need avocados.

As shown in Hootsuite's 2018 Social Barometer Report, social media builds brand awareness, increases lead conversions, delivers customer service and attracts top talent.
What's more, almost 90% of business owners agree that social is important to staying competitive, with 70% of those claiming that it contributes to their bottom line.
The problem is that running your social media takes some serious expertise. That's probably why business owners recently named marketing as their number one challenge—ahead of, you know, small things… like money and time.
Image: https://smallbiztrends.com/2018/09/marketing-effectively-small-business.html?utm_source=quora&utm_medium=referral

Enter the dilemma: social media is critical for your success, but hard to do well. When it comes to finding a solution, you have 2 and a half options:
1. You could hire an outside agency.
2. You could develop an in-house marketing team.
3. You could do a mix of both.
Here are some advantages for each option.
Agency, or outsourcing your social
1. They're versatile. It's unlikely that your in-house marketer is an expert in all aspects of your strategy—your copywriting, your search engine optimization (SEO), your pay-per-click (PPC) advertising, and so on.
When you work with an agency, you have access to experts in all of these fields without having to hire (and pay for) multiple full-time specialists.
2. They're up to date. Agencies are in the know on the latest social media trends. They want to keep your strategy relevant and they know the hippest ways to do so.
For example, did you know that you can now sell your products through Instagram Stories?
Image: Instagram Business. Shopping on Instagram. See. Tap. Shop. https://business.instagram.com/a/shopping-on-instagram
3. They're driven by numbers. 58% of business owners say that measuring the effectiveness of their social strategy is their biggest challenge.
Agencies use premium tools and dashboards (that you likely wouldn't budget for), so you can expect to hear about the ROI of your social media.
4. They have a direct line. Most agencies have relationships with the people behind the platforms.
They can speak directly to Facebook or Google about their problems and get faster support—and they'll probably even get to speak to a human.
Also, because of their partner status, agencies usually have access to new products before they're available to the public.
In-house, or hiring someone internally
1. They're dedicated to your brand and your brand only. No explanation needed. That's a huge plus.

2. They can share timely content. There's a reason why it's called in-house. You have someone close by, ready to act on your next big idea.
This means that they're able to share ephemeral, or short-lived content—a type of content that's trending in 2018.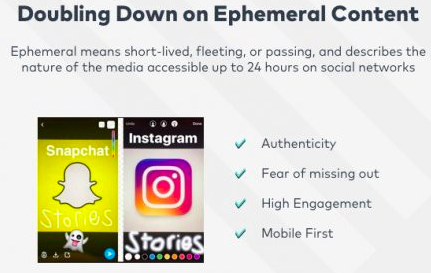 Image source: https://medium.com/marketing-and-entrepreneurship/9-social-media-trends-to-pay-attention-to-in-2018-f7b1bd6b82dc

3. They can help customers. Because they know the brand and your product so well, they're able to provide stellar (and usually faster) customer service.
On social, people are asking questions like "where do I buy this?" or "what time does your event start?"—things that would be challenging for an agency to answer without checking in with your business first.
4. They're talking to sales. Your sales team is on the ground.
They know what messaging is resonating with people, and more importantly, what's not.
When you have someone in-house, they can work directly with your sales team to find the most effective messaging.
Both agency and in-house

Bring out the guac. Your last option is a mix of both.
You might feel comfortable handling one part of your social strategy (e.g. coming up with content), but not another (e.g. running social advertising campaigns).
Similarly, you might want help with one channel (e.g. Facebook), but not another (e.g. Instagram).
Going with a mix of both allows you to test out the agency waters and promote growth on your team at the same time.
Conclusion
We hope you find a solution that keeps your social as ripe as those avocados you're now dreaming of.
Remember, there's no right or wrong here. The answer depends on your business and its goals for the future.
Want to learn more? Avo question for us?
1. We're hosting a seminar in Kamloops this Friday, November 30th, on this exact topic.
2. Have one of our digital marketing experts take a look at your company's social media presence.
{{cta('7b10c658-b87f-4c09-aa6a-afa3ad90af9e')}}