RTOWN NEWS: Google AMP & Toxic Social
The wheels of change are moving here at RTOWN and part of this growth includes the launch of our new look content hub (it's a blog). The goal, to provide a valuable resource to business owners with advice, opinion, and editorial around the changes in the local economic landscape. In true RTOWN fashion it will have a spin towards "digital", but the aim is to go much wider and provide support wherever we can to local business owners.
The RTOWN NEWS series is based on the research, curation, and analysis that I do on a weekly basis and deliver to the team on our morning huddle. If your not familiar with daily huddles, it's a daily meeting rhythm that can increase productivity and be a valuable problem solving tool. This has been absolutely vital for our remote team and I would highly recommend it. Wednesday is my turn to lead the 10 minute meeting and I take the opportunity to update the whole team on the lastest headlines from the marketing world. Seems only right that the natural evolution of this curation would be a weekly post on our new blog. So, to the news:
Google AMP is coming to Gmail
Google's AMP (Accelerated Mobile Pages) is an open source platform with the goal to create a better mobile internet. Developers can build directly into AMP or they can convert HTML content into AMP on the fly. It basically takes what might be a sluggish, slow webpage, and turns it into a lightweight Ferrari. Facebook has been doing something similar with it's Instant Articles, in fact it has been something of a competition. Well google just took the game, and the competition, to a whole different level and arena: your inbox.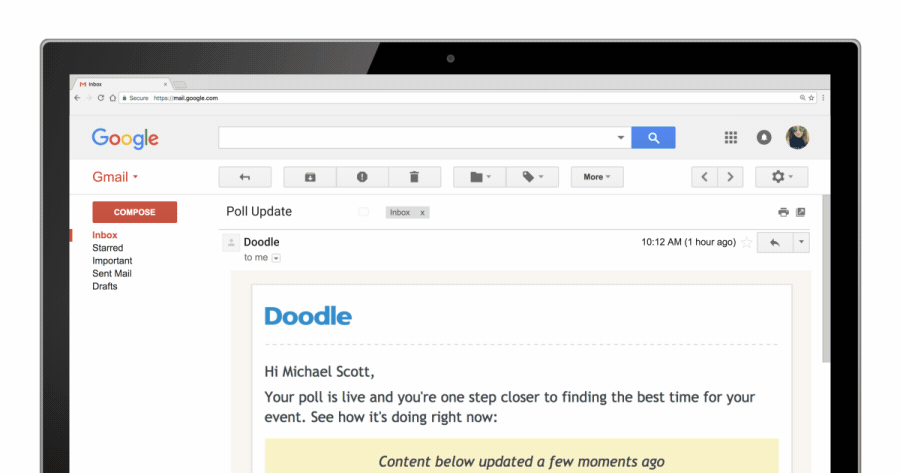 Choosing booking dates, browsing product carousels, app functionality, all from your inbox. This integration provides email developers with an opportunity to provide a whole new level of interactivity to Gmail.
Some might call this move a little brazen. The Gmail inbox is hallowed ground for a tech industry fraught with likes, notifications, and widgets. Email has survived an onslaught of technological developments to stay simple, secure (relatively), and reliable (relatively). The most tech allowed in an inbox is a HTML email with a GIF embedded. Even then, your lucky to load the GIF correctly. With this announcement of AMP being allowed into Gmail, a whole pandoras box of interactivity has been released.
I can't wait to see what happens with the adoption of this framework into Gmail. It's currently only available to selected developers so it will be a while yet before we see it from any major services.
What does this mean for local business?
Any business that engages in some form of email marketing combined with a digital presence (hopefully everyone by now) should see this as a huge engagement benefit. With a stronger interactive touch point in the inbox, you could be shortening sales cycles and increasing bookings. If your not poised to take advantage, we can help with that.
Unilever fires a warning shot on toxic social
With a $9.8 billion dollar annual marketing spend, Unilever is a true consumer goods giant. However, no matter how big you are, you still have to 'pay to play' on the same social channels as everyone else. Unilever are making it know that they are not happy about the state of the content they are buying advertising around on social channels. The threat is that they will take their marketing dollars elsewhere to associate with mediums that don't allow such divisive, fake, and extreme content.
At the Interactive Advertising Bureau conference in California this week, Keith Weed, the CMO of Unilever expressed that "We cannot continue to prop up a digital supply chain, one that delivers over a quarter of our advertising to our consumers, which at times is little better than a swamp in terms of its transparency".
This is the latest in a stream of concerns from politicians and corporations alike that the major players in social media, namely Facebook and Google, need to get a grip on the content they are allowing onto their platforms. There has been a response in the form of better brand and ad placement controls, but nothing substantial. The question is, will there be progress this year in how the algorithms that control our filter bubbles work. Might they discover some form of social responsibility that drives real value for the advertising that supports it.
What does this mean for local business?
In recent times, it can be a helpless feeling seeing the cost of advertising online creep up and up. Fighting for news feed space is already tough, but the possibility that your ad will pop up right after some nefarious content could be devastating for a small business. It's important that local businesses also protect themselves with good social media practices and targeted ad buying. Having the big spenders flex their purchasing muscle is a good thing, more pressure like this is the only way to slow the grab for the advertising dollars. It won't be immediate, but the digital attention space might actually see some social responsibility this year, and that's just good for everyone.