How your franchise brand can increase sales leveraging location pages on Facebook
Facebook offers an unprecedented opportunity for your franchise business.
Over 2.4 billion people are active on Facebook worldwide each month with a staggering 69% of all American adults connected to the platform.
Of that group, 74% report visiting the site at least once a day.
The data is hard to ignore.
It tells us that for "first touch" sales, the traffic source buyers find businesses from first, more sales come from Facebook traffic than any other social platform.
In fact, it's not even close.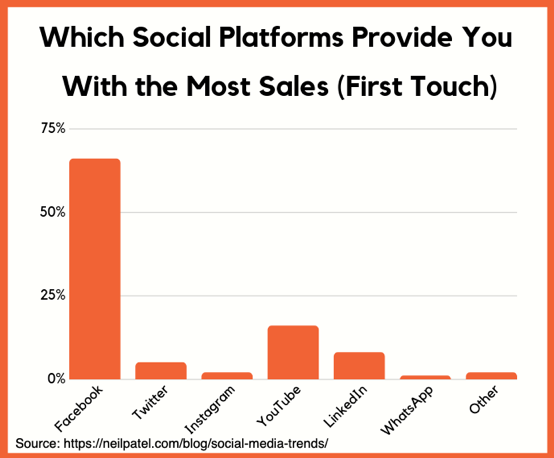 So, if that's the case, why do we still see so many franchise businesses struggling to get traction on the platform, or worse, leaving Facebook out of their marketing plans altogether
In a recent post I outlined the benefits of a digital marketing strategy for your franchise, highlighting digital marketing's unmatched ability to compound your return on investment for marketing dollars.
I invite you to read more here if you require more context to help justify your company's business case.
But for the purposes of this post, my aim is to clear away the fog that can roll in when considering how to integrate a Facebook marketing strategy into your franchise's marketing execution playbook.
In short, to address the why and how behind getting your franchise on Facebook and established as the foundation of your digital marketing strategy.
Facebook location pages explained
Facebook had your business model in mind when it designed its parent/child page structure.
Facebook allows you to set up a "parent" or Main page (let's call it the "Head Office" page) to represent the corporate headquarters for your brand.
It also offers "child" or Store pages (let's call them "location pages") for each of your franchisee locations.
It's the parent/child page design structure that makes Facebook a powerful framework for your franchise's digital marketing efforts.
Consider…
Head office maintaining control over brand messaging reduces risk and ensures consistency.
Head office can leverage its own digital marketing personnel or agency to effectively market and distribute content on behalf of its franchisees, reducing overhead costs and needless back and forth between different stakeholders. This creates greater ROI for paid marketing services and creates a "rising tide floats all boats" dynamic.
A cohesive strategy across all locations allows for centralized reporting, cleaner data and faster, more informed decision making.
Locations can be empowered to post community inspired or location specific content which can resonate powerfully with local audiences, creating greater engagement.
Check-ins from all locations are aggregated to the head office page. Increasing visibility and reach across Facebook and Instagram.
All of this leads to creating more of those valuable "first touch" opportunities which are key for increasing sales across your family of companies.
Getting Started
Let's assume you're starting from the beginning with Facebook for our purposes here.
Create your head office page if you don't have a Facebook page for your business yet or add all of your location details to your head office page to create your location pages.
Facebook walks you through this process when you create your business page for the first time or through their Business Manager program if you are looking to add your locations to an existing page.
Just for clarity, you'll see that Facebook refers to these pages as the Main page and Store pages, in their directions.
For efficiency, Facebook allows you to upload a spreadsheet to auto populate all of your locations at once.
Account Settings
This is where the magic happens! Now with your head office and location pages set up, you have three options for how Facebook will help you manage your posted conten
Always show Main page posts on all Store pages (read: head office and location pages)
Show Main page posts on Store pages only when the Store pages do not have their own posts (this is the default option)
Never show posts from the Main page.
You probably already guessed which setting we recommend.
Allowing your head office page posts to disseminate across all your locations allows you to build and reinforce brand awareness, create engagement and drive conversions.
It is also important to note that posts from the head office page to location pages will always hold all of the analytics (i.e. clicks, likes, comments and shares – or "engagement" metrics) from the post. (I'll share a quick example of this in a minute.)
Location page posts will have their own analytics for the posts they create themselves.
Head Office Content & Oversight Ideas
You are now set up to post content to your head office page and across all of your franchise location pages.
At the same time, you've given your franchisees the ability to post on their individual pages.
Given that reality, as head office you may want to consider:
Creating and sharing a basic social media content guide with direction on what is appropriate to post, including ideas, topics or sample posts.
Sharing applicable information from the company's style manual or brand guide to help advise content creation
Creating a general, shared repository for images, logos, graphics or sample posts that have created engagement, for locations and head office collaboration
For advertising, we recommend outlining a budget for both head office and your franchises' individual locations. Even if franchise partners have content they want to share, enable this but we recommend centralizing content creation, posting, reporting, etc for all locations. This prevents needless doubling of posts, which can confuse the algorithm. Locations should send what they would like put out to a single point of contact for creation and distribution on the platform. Some tools allow for content calendars to be shared to help make clear what's going out, when and where.
With locations having the mandate and now the ability to advertise for themselves, head office may also want to consider:
Running targeted ads for both head office and its locations, sharing successful ad campaigns with locations for more effective local campaigns
Creating a basic advertising guide sharing: sample ads from head office or other locations that were successful, audience targeting ideas and general guidelines (i.e. all local ads must be approved by head office, etc.)
And don't forget that if head office controls websites for franchisees, ensure that the company's Facebook pixel is installed to track events and conversions, along with ensuring the site is optimized for conversions.
Nothing is worse than having a great Facebook ad campaign run traffic to a website only to see it petered away due to bad copy or a clunky user experience.
Remember to plumb in Google analytics as well to monitor activity specifically from Facebook for greater insights.
Depending on the experience and abilities of head office's marketing team, it may also help to source a reputable digital marketing agency to advise or help in the creation of these resources.
They can also assist in providing training and guidance to franchisees as you get started.
Content Ideas – Head Office
Here are some ideas of what we've found works well for head office content to post:
Important announcements, job postings, events, awards/recognitions
Company blog posts
Good PR and news stories about the company
Social proof like positive reviews or testimonials
Highlight specific locations and share positives (a project completed, accomplishment, community event, money raised for charity, user generated content) and make sure you tag the location in the post
In the instance of highlighting and tagging a specific location – it would be best to add the franchise location's landing page URL in the post as a call to action (CTA) for the audience
The image below shows the metrics of a post shared on a head office page (sorry we can't share the post or company) highlighting that a specific location in this franchise was "still accepting applications". It included the URL to direct traffic to the location's landing page to capture leads.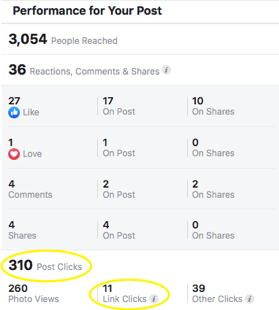 In this example 310 people clicked on the post, 11 people clicked on the URL and ended up on the location's landing page yielding 3 applicants, for a cost of only .10 cents / engagement (click, like, comment or share).
But that's not all. This strategy also yielded the incredibly valuable benefit of growing the page audience exponentially over the course of this campaign and others like it.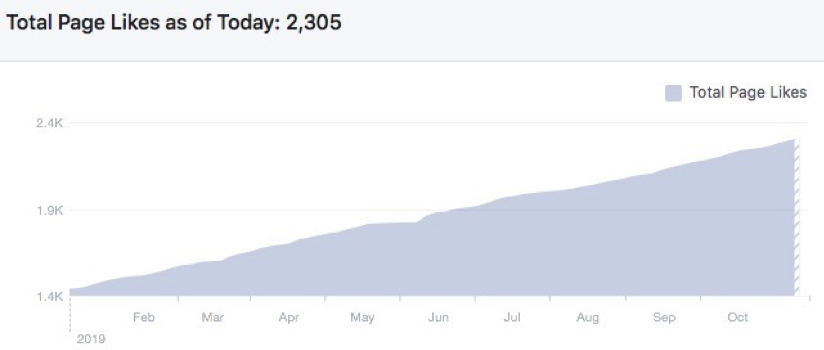 This business page now boasts of over 2300 "warm" followers that have actively "liked" the page, inviting its content into their newsfeeds for further engagement and future sales.
It's a powerful strategy that we've seen work time and time again!
Content Ideas – Locations
Some ideas to consider for your locations:
Give people a closer look at your locations:

"Behind the scenes" insights, images, videos and updates
Meet the staff – Bio's and info to put a personal touch on the business
Community events, open houses and initiatives

Lead generation posts, promotions or special offers
Brand awareness content can still be used here, though it should make up less of the overall content strategy depending on how active head office is posting
With each location's more intimate connection to their immediate community, you might find that ad campaigns for lead generation and conversions fuelled by content and offers created by locations, yields better results.
Audience Insights
Lastly, Facebook offers your business some utterly amazing audience targeting capabilities that far too many businesses don't employ. This is where you can really get a leg up on your competition.
Do you have an existing email list of clients for your locations?
Securely upload it into Facebook and turn it into a custom audience. Comprised of your customers who are already on Facebook, now you can target them directly with content and offers to engage, reengage or upsell them.
Do you want Facebook to automatically find other people that resemble your current clients?
Create a "lookalike" audience by asking Facebook to find other people who match characteristics of the current clients in your Facebook custom audience. Now you can show your content and ads to those who are most likely to become customers instead of just anyone.
Want to recover people who dropped out of your sales funnel?
Use Facebook retargeting (showing your ads to customers who have already engaged with your brand online) to get back in front of people who started to engage with you but left you somewhere in the process.
Statistics reveal that retargeted ads can produce up to 10X higher click through rates than original ads, helping convert people who have engaged with you already.
In Conclusion
Your franchise marketing plan just isn't complete without a digital marketing strategy and your digital marketing strategy isn't complete without Facebook.
Its structure is a perfect fit for your franchise.
Its saturation into the general population is unparalleled.
Its ability to connect you to your audience is undeniable.
Empower your franchisees to create excellent and engaging location specific content and execute effective ad campaigns and solid branded content posting from head office.
It's the perfect fit for your franchise.
Putting Facebook pages in place and engaging in these basic best practice approaches will not only stop the bleeding that comes from an ineffective Facebook presence, but will help create a flow of life back into your business that will produce compounding rewards well into the future.
It's time to get Facebook working to grow your Franchise System. We're here to help if you ever need a partner who loves the complexity and fun of marketing yours. Please get in touch if we can.