Digital Strategy for Franchise Systems
Getting consistent, measurable return on investment (ROI) for your marketing efforts is hard enough for the one-off dry cleaner, restaurant or boutique store, never mind your multiple location franchise.
Where do you start? Think about it long enough and you're left with a collection of unanswered questions and unending approaches to consider.
Should we push harder into digital marketing?
What results are we looking for?
Which channels should we pursue?
Where are our ideal customers spending their time today? What about next year?
What should we focus on at head office and what should we let our franchise owners go after?
Can head office handle more for our franchise partners?
Do we want to become experts in digital marketing as well as our core business and what differentiates our products/services?
Is it better to build our team in-house or outsource it?
These are common questions and concerns for franchisors, and we hear them all the time.
Too hands-on and you might overwhelm your staff and frustrate your owners. Too hands-off and you worry about your brand messaging becoming disjointed or worse, take a hit with a well-intentioned but misguided staff post.
You've got a responsibility to market for your franchisees. They have a responsibility to do the same. That's typical in franchise agreements. But who does what?
It's time to untangle the web around effective digital marketing for your franchise and franchisees, and get you on the path to measurable, repeatable and scalable results.
"Failing fast and scaling success is a hallmark of digital marketing done right."
Why Digital?
Simple. Its ability to compound the return on investment for your marketing spend.
Let me explain.
Digital marketing is immediately measurable. It provides near instant feedback on whether your messaging, images and approaches are resonating with your audience or not. That saves you time and money allowing you to try something new quickly, or double down on what you know is already working.
Consider…
You see unusual traction from your social audience as they comment on a picture of a staff member serving in the local community. In an instant you can boost the post to push it to more fans and amplify the results.
You run two different ads on Facebook with the same messaging, but different images. The one that shows your smiling receptionist is costing you more per click than the one that shows "George", the adorable wiener dog you groom at your pet spa, getting his bath. Turn the staff one off so more ad spend goes to the one getting results
Being able to test ads, landing pages, creatives or which social channels are getting traction allows you to catch duds early and double down on winners.
Failing fast and scaling success is a hallmark of digital marketing done right.
Customers Make More Customers. Reaching, converting and maintaining customer relationships digitally means positive buyer experiences that occur at the end of the buyer journey funnel (see buyer journey image below) feed back into the top of the funnel, compounding the ROI of your marketing spend.
Mail a postcard offer
Get a customer
Deliver a great experience
Hope they tell a friend or family member.
That's word of mouth advertising.
Show a social ad
Engage a potential customer on Facebook
Develop an online relationship
Complete a sale
Have them post a review and share it with their whole network.
That's word of mouth advertising… on steroids!
"The accurate and timely data coming out of our digital marketing programs have identified opportunities for our brand," says Alex Read, CEO of CEFA Early Learning (a franchise system based in Vancouver, BC). "This data has, in turn, allowed for quicker, more confident decision-making. In one example, we have been investing in our search marketing strategy to rank key terms in areas with franchise partners aiming to increase visibility with parents to increase enrolment. Increased Google rankings in these areas have resulted in a direct correlation to not just new customers, but the right customers for our franchise partners."
When you have the whole funnel ticking, it starts to feed back into itself drastically decreasing customer acquisition costs and fuelling further growth.
The reality is, for a vast majority of businesses a digital strategy just isn't optional anymore.
Forrester tells us that 70 – 90% of the buying decision is complete by the time a potential customer calls or goes to your website. Buyer awareness, education and establishing trust in your product and service as a potential solution today, is primarily done online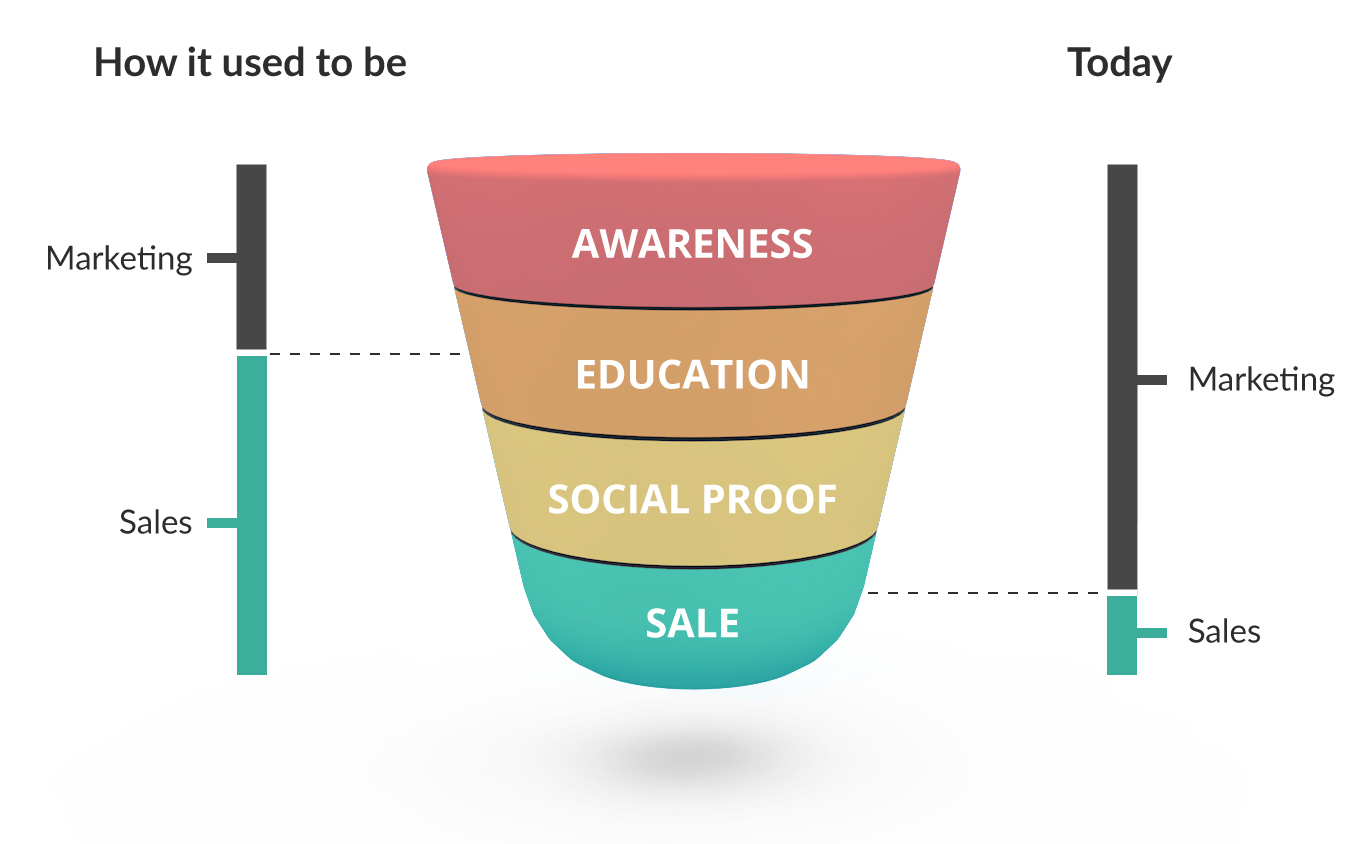 "The reality is, an effective digital marketing strategy is a must if you want to compete in today's business landscape. It will pay huge dividends in helping grow your franchise and create growth for your franchise's locations."
The Buyer Journey in the Digital World
Owning the top of the buyer journey funnel should be one of the main aims of any digital marketing strategy. You can thank the smartphone for making a digital strategy a must-have for your franchise system; starting with a responsive mobile website near the bottom of your funnel and moving back through search and social to the top.
The reality is, an effective digital marketing strategy is a must if you want to compete in today's business landscape. It will pay huge dividends in helping grow your franchise and create growth for your franchise's locations.
So where should you start and who should do what?
It's time to start building out the framework.
Setting a Foundation for Success
To start, let's quickly highlight and define two key areas for consideration. One, the two types of marketing communication that should be pursued and two, who is best positioned in the franchise business model to pursue them.
First things first. Generally speaking, all marketing can fall into two categories:
Branding
Performance Marketing.
For the purposes of this article, let's refer to performance marketing as "Lead Generation".
Branding drives top of mind awareness. How you differentiate your products and services IS your brand in your customer's eyes. What position do you hold in their minds?
Lead Generation is about calling the audience to take action. Likes, shares, clicks, site visits, form submissions, calls, purchases…you get the idea.
Now, let's call the two parties that will be responsible for delivering on the marketing initiatives in your strategy either, "Head Office", or your franchise locations or "locations" for short.
So, let's get started assigning the roles, responsibilities and focused activities appropriate for your digital strategy.
WHO: Head Office
PRIMARILY RESPONSIBLE FOR: Brand and the marketing related to branding. Brand and the marketing related to attracting new franchise partners to grow the overall system.
HOW/WHERE:
Corporate Website
Social Media Channels: Content for Posts / Social Ads
"Global/Wider-Geographic" Search Engine Optimization (SEO): Corporate Website, Blog content focused on customer problems and differentiated value, Google Rankings
Digital Knowledge Management (DKM): Operating information relevant to all customers across all franchise partner locations.
WHO: Franchise Partners (locations)
RESPONSIBLE FOR: Lead Generation
HOW/WHERE:
Social Media Channels: Posts / Engagement / Social Ads (on Facebook, for example, some posts and ads can be handled by Head Office and distributed down to local pages on behalf of the franchise partners)
SEM/SEO: Search Ads, Display Ads, Retargeting and Location Specific Landing Pages
Reputation & Reviews: Acquiring Reviews, Responding to Comments/Reviews
HEAD OFFICE
Your Head Office is the centre of your brand and its identity. Steeped in years of creating, refining and promoting your businesses' unique brand values and identity and in delivering to those value points through documented systems. It's best that doesn't change with your digital marketing strategy. Head Office should continue to handle the branding-heavy side of all marketing efforts.
Since solid brand marketing will float all the boats in your fleet, it only makes sense to direct your marketing spend towards this end. This is where franchise partner fees, as a percentage of fees/spend, typically makes sense for the Head Office to collect and invest. Your franchises will all benefit as you drive top of mind awareness of your company's products and/or services.
Where and How to Start
Social
Your corporate social channels should be devoted to publishing content that helps get your ideal customer's attention and positions your company at the top of their minds when they need your help.
For a very recent snapshot of usage across social media channels by generation and geography, here's a handy link to help guide your strategy.
Posts & Ads
Creating and posting content that consistently and creatively represents your brand identity and credibility to your target audience is your aim. Look to connect intellectually and emotionally, creating engagement the "likes" (pun intended!) of shares and comments as the goal of your social posts.
Amplifying your posts through ads directed at your ideal audience will help get the awareness you are looking for here.
SEO
Your SEO strategy should be focused on owning the keywords around your product or service that will get your site(s) ranked well on Google, getting you in front of people who are already searching for what you have to offer.
Easily read, engaging and keyword rich website content and blog posts aiming to educate your customers in helping them make their buying decision forms the backbone of a successful SEO strategy.
Creating great content is an important investment that pays big dividends online.
DKM
Head Office should also oversee the digital knowledge management for its franchise and locations. Accurate information online is crucial to ensuring web traffic is properly informed and directed.
At its basic level – location addresses, phone numbers and hours of operation should be uploaded and continually maintained through Google My Business. Then, ensuring other channels like YELP, Facebook, Trip Advisor or any other sites applicable to your product or service are updated can mean the difference between seeing a customer walk through one of your franchisee's doors or… through the doors of a competitor down the street!
When Google presents its search results it often ranks them according to how far they are from the user's location. A location's street address, off by just a few numbers can easily result in missed foot traffic and lost sales.
Or consider the restaurant that doesn't list gluten-free or vegan options on a review site. They risk missing out when the lunch group from a downtown office tower takes to their phone to find a new place to try.
Ensuring online information concerning your franchise, product or service is accurate, up to date and as thorough as possible will go a long way to helping your locations thrive.
Head Office can help by overseeing this important, but often overlooked aspect of their digital strategy.
FRANCHISE PARTNERS (LOCATIONS)
Franchisee owners are highly motivated to generate new customers and their locations are where the rubber meets the road for customer engagement and experience. This makes them the perfect driver of lead generation campaigns along with client facing, location centric marketing that helps bring people through their doors.
Where and How to Start
Social
Ensuring social media accounts are monitored for opportunities to interact with consumers is a vital marketing aim for your locations. Posting content, managing customer engagement and running social ad campaigns for lead generation are primary responsibilities they should be empowered and encouraged to handle.
Posting Content
Location owners and their employees have their finger on the pulse of the buyer. Daily dialogue with customers, knowing what questions they're asking, and handling issues produces precious insights that allow locations to create relevant social content.
Did you know that employees that share corporate content on their own social channels are attributed with producing eight times more engagement per post than if the same post was shared by the company? Having excited employees sharing the right messages to the right audience can be an incredibly effective marketing tool for your organization.
Individual locations are also valuable parts of the local community. Having them flavour content to be more relevant to their local audience is a huge benefit. Hosting community events or showing support of community initiatives online can be highly shareable content that helps drive local awareness and sales.
Ads
Whether "boosting" the reach of social posts created by the location to help grow fans or presenting offers and promotions to drive sales, locations should be spending on social ads that target their specific geographic community to drive sales and grow their bottom line.
Customer Engagement
A recent poll done by Sprout Social found that nearly half of respondents stated social media channels as the place they turned to voice customer service complaints, second only to in-person interactions. Wow.
Let's get real, Head Office is often too far removed to address location specific complaints quickly and effectively. Some basic guidance and policies governing how locations handle online complaints can free up head office staff from that responsibility and help protect your brand from the effects of poorly handled customer complaints "out there" for the world to see.
As customers engage online with locations, statistics show that even positive interactions around a negative situation can help with exposure. 46% of people who have a complaint addressed positively on social media will respond by posting about it, while 37% share it with friends and family online.
SEM/SEO
Google Ads, display ads and retargeting ads (location specific landing pages as well), should be based on the right keywords but targeted to each specific location. This helps ensure that marketing dollars are focused on the right audience, not wasted on people too far away to don its doorstep, helping protect the franchise owner's return on investment for their ad spend.
Reputation and Reviews
Already mentioned, locations that have learned how to manage positive and negative comments and reviews in a timely and effective manner stand to benefit.
Along with responding to organic comments and reviews, locations should also prioritize and pursue acquiring reviews from their customers to further build online credibility and bolster buyer confidence.
Also important to mention is the fact that reviews impact a franchise's SEO results. As SEO experts MOZ reports, local reviews have become one of the most important factors in determining a business's local search rankings. Reviews are not just a nice feather in the cap of a business. They are a significant part of any effective online marketing.
It's plain to see that the compounding results of an effective digital strategy centers largely on reviews and reputation management. As happy customers or (unhappy customers made happy) share their experiences they help fill and fortify the top of the buyer journey funnel, helping to raise awareness and provide valuable social proof for the next buyer.
How Can You Get started?
Today, Facebook has made it pretty easy for corporate accounts to add multiple locations. This change allows Head Office to push out posts to each locale, or empower locations to post themselves.
Locations can easily be set up by uploading a spreadsheet into the platform or by manually adding them. Head Office and locations then share access that helps each deliver on their responsibilities
Locations can manage their customer engagements, recommendations (reviews) and posts, as well as target only their location with lead generation campaigns.
Head Office can post branding content across locations while monitoring the activity that occurs on their page.
Google Ads are already set up for keyword-based searches around specific locations. This ensures search ads, display ads, and any retargeting ads are directed to the right audience.
Ensuring Google My Business is set up for your locations is a necessary first step and will position you to begin advertising more effectively right away.
Other channels like Twitter, Instagram and LinkedIn require more thought if you are considering whether locations should have their own standalone accounts.
Some key questions to consider are:
Does my franchisee or region have enough interest to support a separate profile?
Do your operators have the capacity to run those accounts independently?
Does your franchisee or region have the budget to create a meaningful presence?
Remember, just because a specific location doesn't have their own presence doesn't mean they can't contribute to handling social for your main properties.
Engaging an experienced digital marketing agency can pay huge dividends in providing direction to you and instruction to franchisees as you get started implementing your strategy.
Conclusion
Businesses can't ignore digital marketing any longer. Yes, franchises present different challenges derived from their business model and structure. But with the proper segregation of responsibilities, focus and execution, a digital strategy like this provides a great foundation upon which franchisors can stand to successfully promote their brand and grow their business.