4 business podcasts all Canadians should support
As Ulster Media puts it, podcasting is "indeed a thing" in Canada.
About 10 million Canadian adults listened to a podcast last year—and that number is on the rise.
Case in point: almost 75% of those 10 million listeners started their podcast journey (soon to be addiction) in the past 3 years. It's not surprising that 2017 was dubbed the "year of the ear".

With more and more Canadians tuning in, the call for more Canadian content becomes louder; 47% of Canadian listeners claim to be on the hunt for new Canadian podcasts. Turns out our ears are as patriotic as our hockey games.
In an attempt to help the Canadian podcast industry take flight, we've put together a list of 4 eh-plus business podcasts.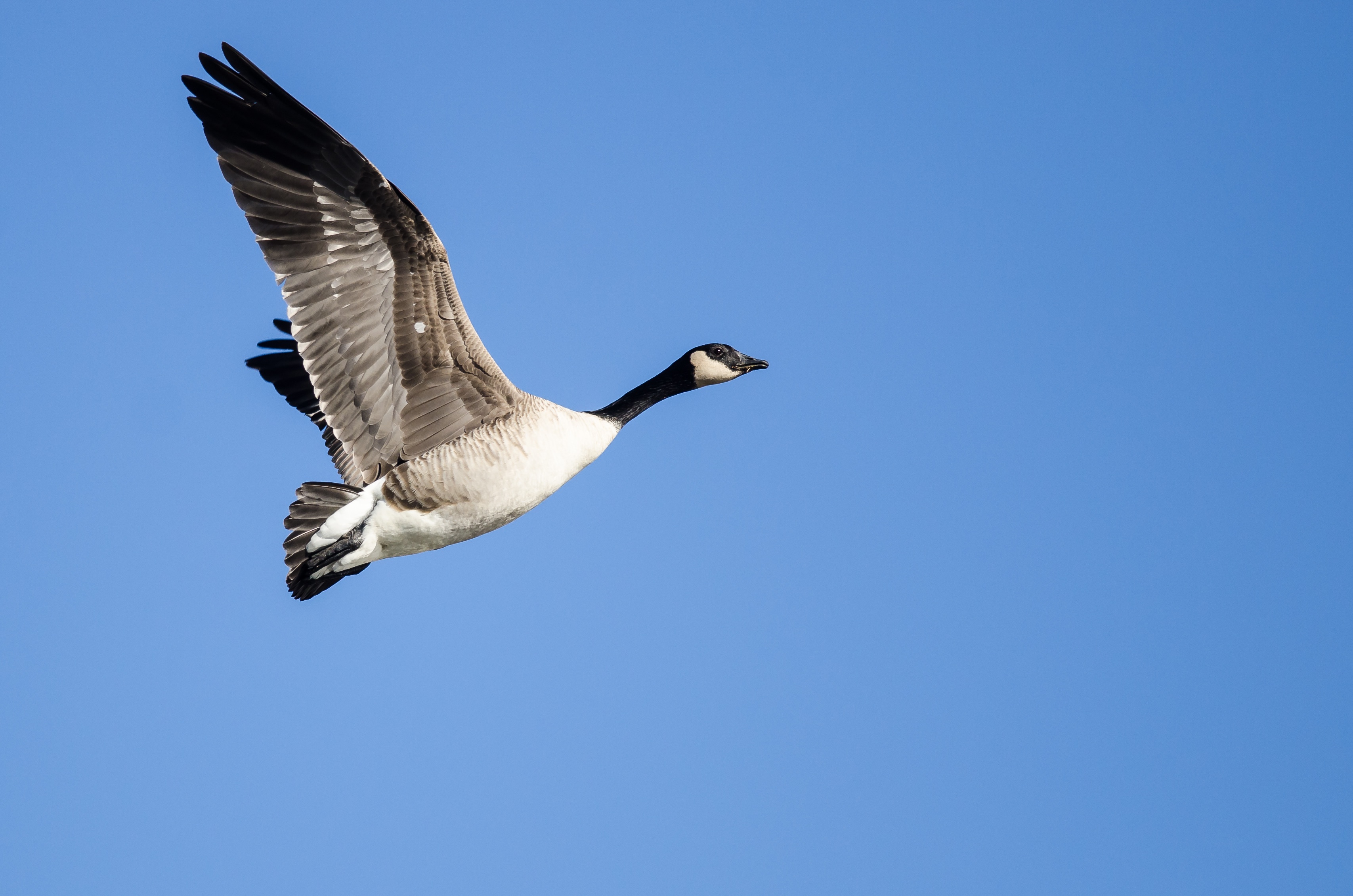 1. Earning Curve. This is a new podcast by Interac and Gimlet Creative. The host, Canadian tech entrepreneur Michele Romanow, interviews young and seasoned Canadian entrepreneurs on what it's like to grow a business.
Romanow is great at starting sincere and personal conversations. For example, in one episode, she chats with Mark Ang at Second Closet about the dynamics of starting a business with a sibling.
In another episode, she chats with two Nova Scotian entrepreneurs—Alex Rice (Nova Scotia Spirit Company) and Mandy Rennehen (Freshco)—about how growing up in Atlantic Canada has contributed to their success.
2. Under the Influence. This is a CBC Radio marketing podcast hosted by successful Canadian adman Terry O'Reilly. His episodes range in topic—from famous jingles to porn website advertising to subscription marketing.
To give you a taste of his subject matter, in one episode O'Reilly talks about how avocados didn't become a popular fruit until the 90s when a PR firm ran a Superbowl campaign introducing the "Guacamole Bowl".
O'Reilly's stories are memorable, historical, and great for small talk at networking events.
3% of Canadians seem to agree. ↓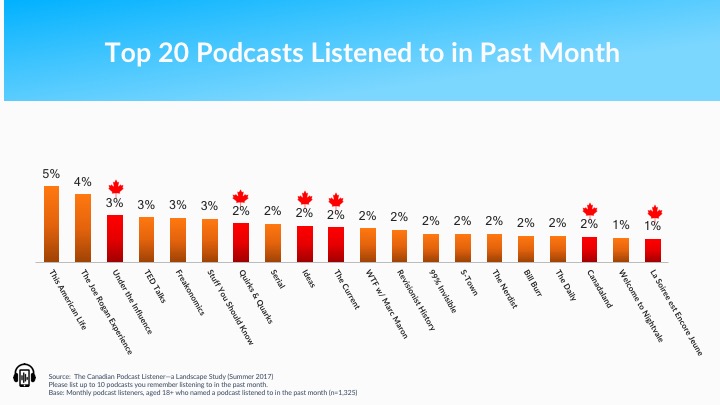 Top 20 podcasts listened to in the past month. Source: https://www.ulstermedia.ca/blog/top20podcasts
3. Shift. This is PwC's podcast series on key digital trends in Canada. The host is Jon Finkelstein, PwC Canada's Executive Creative Director. In this podcast, Finkelstein sits down with executives from Canada's public and private sector to talk about how their businesses are digitally transforming.
In one episode, he sits down with the CIO at PCL Construction—Mark Bryant. They talk about how the construction business isn't historically associated with digital transformation and how that's changing. For example, PCL is now using iPads on the job site for safety and quality inspections and getting results within the second versus within the day.
Other guests on the podcast include Jessie Adcock, Chief Technology Officer at the City of Vancouver and Cody Green, CEO and Founder of Canada Drives.
4. Marketing Jam. This is a local marketing podcast hosted by the Founder of Jelly Digital Marketing and PR, Darian Kovacs. In each episode, Kovacs interviews a new talented marketer with the goal of learning new tricks and exposing industry trends. His guests represent brands that you definitely want to hear from, like Microsoft, MEC, Roots Canada, Twitter, Daily Hive, and more.
In the latest episode, Kovacs sits down with Tamir Bar-Haim, Manager of Advertising for Amazon Canada to chat about the e-commerce landscape. Bar-Haim discusses Amazon's AR View feature, gives advice to future marketers, and lists his top 5 apps (spoiler alert: one is Amazon Mobile).
Amazon's in-app AR View feature. Source: https://www.zdnet.com/article/amazon-brings-ar-view-feature-to-android/

Conclusion
We want the Canadian podcast industry to be as sticky as the buds of marijuana we just legalized. To do that, we need to listen to more Canadian podcasts, share them with our network, and maybe even make some of our own.
RTOWN's goal is to put your business on the digital map. Podcasts are just one way to get more eyeballs on your brand. Other ways include sharing great content on social and having an informative website. We don't produce podcasts (yet), but we can run your social channels and build you an optimized website. Get in touch for more information.