Top events to attend this small business month
October is small business month across Canada. This means an extra push from chambers and business networks to provide you with support to help your business flourish and an overall push to promote shopping locally. We have compiled a short list of events, workshops, and opportunities that we think can benefit you the most. So without further ado, here are our top 'must engage' events this small business season:
#Stylemybiz – Contest and Event Series
With a series of events across the country over the next 6 weeks, SOHO and 411.ca have teamed up to put on a small business contest with a game changer prize package. There is $50,000 worth of office upgrades, team experiences, a trip to Vegas, workplace makeovers and so much more up for grabs. If you're a small business (under 50 employees) you can enter here before October 31st. The events are a great opportunity to make business contacts, sip some complimentary drinks while engaging in the many exhibits and displays. Tickets can be found here with 25% off if you use the code RTOWN25
October 4 – Ottawa
October 18 – Montreal
October 20 – Halifax
October 27 – Calgary
November 3 – Vancouver
November 10 – Toronto
More details for tickets and the contest can be found here.
MyBizDay Series – Small Business BC
To celebrate the 10th anniversary of small business month and to recognise the vital contribution small businesses make to our local economies, SBBC and TD Bank are putting on a series of free one-day events across the province. Designed to connect over 2,000 entrepreneurs with a mix of workshops, presentations, panel discussions and exhibits, this one is certainly worth checking out. The topics covered include market research, financing, digital marketing, insurance, international trade and more. The dates:
Kelowna – October 19
Prince George – October 27
Metro Vancouver – November 1
Victoria – November 9
Be sure to save your seat as these days are sure to sell out. Register for your local event here.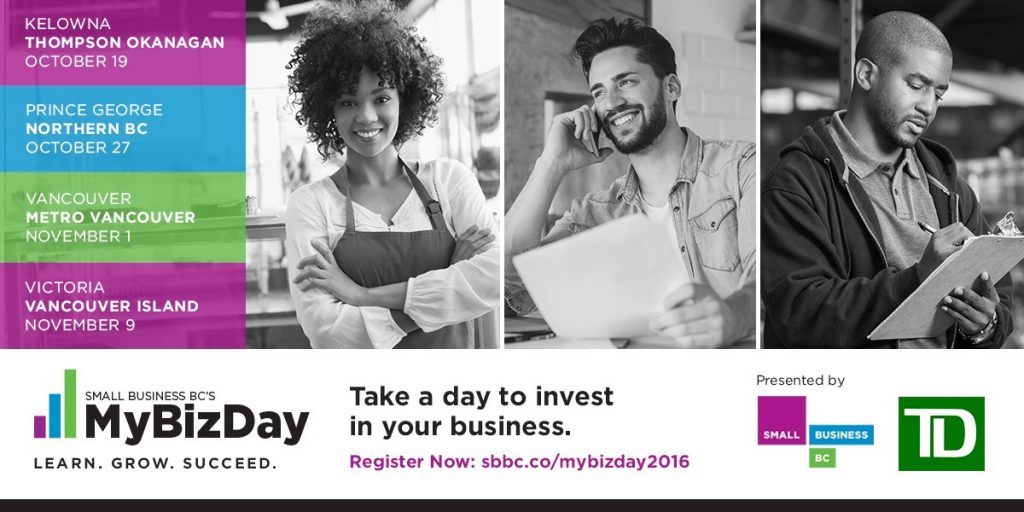 Up Conference – Thursday 13th October, Vancouver
Are you just getting started and looking for advice or a contractor wanting to take your solo business to the next level? Well, Up Conference is for you. A day dedicated to working on your business, connecting with peers and sharing experiences with those who have celebrated successes and felt failures. With a great line up of speakers and some valuable break out sessions, you are sure to come away inspired and with renewed confidence about your business. Tickets are available here (and include the after party).
[vimeo id="183681180″ width="600″ height="340″ position="centre"]
There is so much happening to promote and support small business this month that we just had to keep it to our top 3. Be sure to keep tabs on our social media channels for the latest events in your community.