6 Ways to Find Relevant Content for Your Social Media Audience
Sharing interesting, relevant content is the golden ticket when it comes to social media success. Without it, even your most loyal Fans and Followers may lose interest and abandon you.
But how do you find great content your audience will love?
Not every company will have the time, budget, or resources to create primary content for every Post, Tweet, or Pin. Luckily, there are plenty of places to source relevant content from online for free! Here are a few of our favourites:
1. RSS Readers

Set up an RSS Reader to aggregate blog posts, news articles, and other content based on categories, relevant keywords or locations. Select topics that your audience would find interesting as well as those that relate to your industry.
Personally, I like to use a combination of Google Alerts, Feedspot, and Feedly. Although there will be quite a lot of content overlap, I'd rather have more to choose from than less.
2. Local News
Your local news outlets will also provide you with fresh content daily. For example, if your business is operating out of Kelowna then you could visit Kelowna Now's website where you will find recent articles, exciting news, and activities or events that are coming up soon.
Most local newspapers, radio stations, and television networks will have a website and social media channels where you can source content from.
3. Your City
Almost every city has an official government website with useful links to historical information, recreational parks and trails, activities and events, local points of interests, and more.
Not only will your audience find it relevant, but your city will also appreciate that you are sharing their content and leading people to their website.
You can also get involved in any of your city's official campaigns. For example, if your company operates out of Kamloops then you could make a post about the City of Kamloops' new Fall Instagram campaign.
4. Tourism of "Your City"
Most major cities and tourist destinations will also have a website and social media accounts that are not officially run by the government. They often have the budget to create high quality local content that you can find on their website, blog, and social media channels.
One great example is Tourism Whistler which publishes weekly "Insider" articles that are targeted at tourists and visitors. They have also just completed a series of YouTube videos that will launch this Fall.
5. Social Media
Hashtags are one of the best ways to find relevant content on almost every social media platform including Facebook, Twitter, Instagram, and Pinterest.
To save yourself time, use tools such as Tagboard and Hootsuite to search for hashtags and keywords across multiple platforms at once.
6. Partners & Suppliers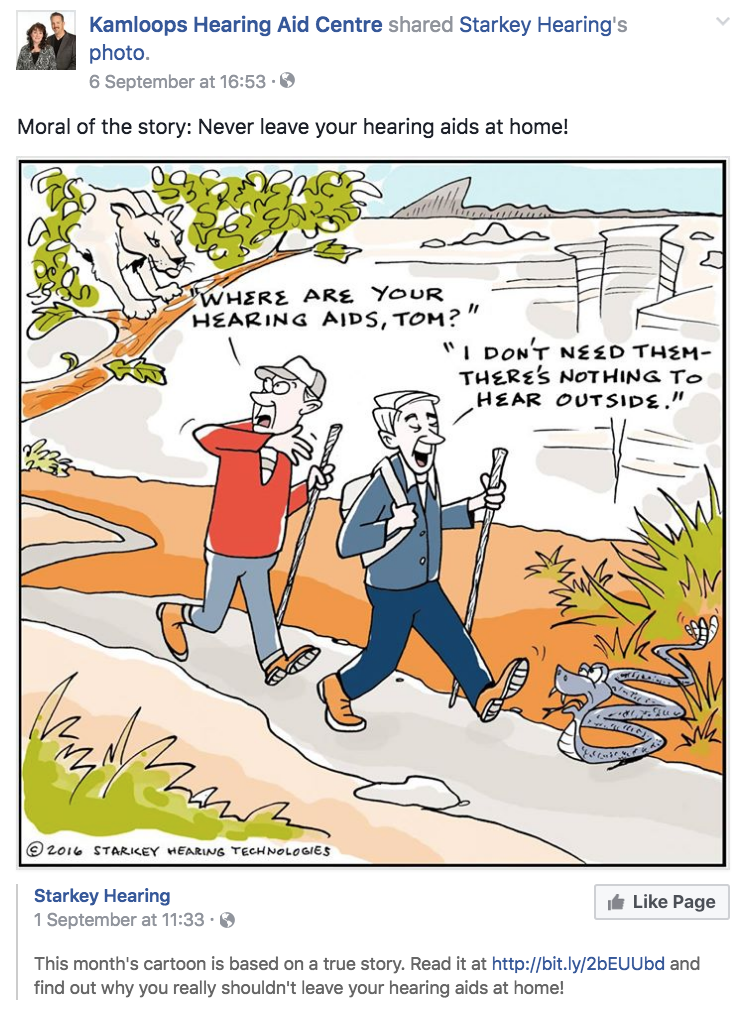 Another great source for content is from any suppliers or partners your company works with.
For example, one of the hearing aid providers for Kamloops Hearing Aid Centre is Starkey Hearing. They publish weekly blog articles to their website and post daily to their social media channels.
Content from partners and suppliers is ideal as they share the same target market as you. They will also appreciate the fact that you are promoting them on your social media channels.
These six sources should save you next time you're stuck for content to share on your company's social media channels. Just remember to always @Tag and/or credit the source of the content when you post.
If you would like to speak with one of our Digital Media Strategists about social media marketing for your business then get in touch with us today!