Measuring Social Media Success with Google Analytics
If there's one thing we know, it's that numbers don't lie. If you're wondering whether or not social media is making an impact on your business, then it's time to look at the numbers and find out. Google Analytics is a free tool that anyone who has a website can use. If your business doesn't have a website yet, then you should really consider getting one today. If you don't have an online presence then you're going to miss out on many opportunities and new leads.
The following example was taken from one of our clients who signed up for our social media services at the end of November 2015. The growth over time for their total website visits (the orange line) has noticeably increased since we started utilizing their Facebook Page as an engagement tool and advertising platform. As I said before and I'll say it again, the numbers don't lie. Each spike in web traffic clearly correlates with a spike in the visits from Social Media (the blue line).
Getting Started with Google Analytics
The first thing you'll need is a Google Analytics account. Once created, simply visit http://www.google.com/analytics and Log in to get started. Set up your website property and get your Tracking ID. Take note of this ID as you will need to insert it into the <head> section of your website.
If you don't have access to your website then send your web developer the Tracking ID and have them put it in for you. If they already have your website attached to a Google Analytics account, ask them to add your e-mail address and grant you full Account and User Permissions.
Now you're ready to look at some of the ways to measure your social media efforts. (Note: Google Analytics Reporting will only start collecting data from the day the Tracking ID was uploaded. Therefore, it may take a few days before you see anything in the reporting sections.)
1) Check the Social Reporting Section
Although intimidating at first, Google Analytics is really not very hard to use. However, it is very easy to get lost in all the data, so remember to stay focused on the task at hand, which for us right now is social media measurement.
After you Log In, click on the Reporting tab at the top of the page. In the left column where it says Dashboards, Shortcuts, Intelligence Events, etc., scroll down until you get to Acquisition. Click on it to expand it and then click on the arrow to open the Social Reporting area.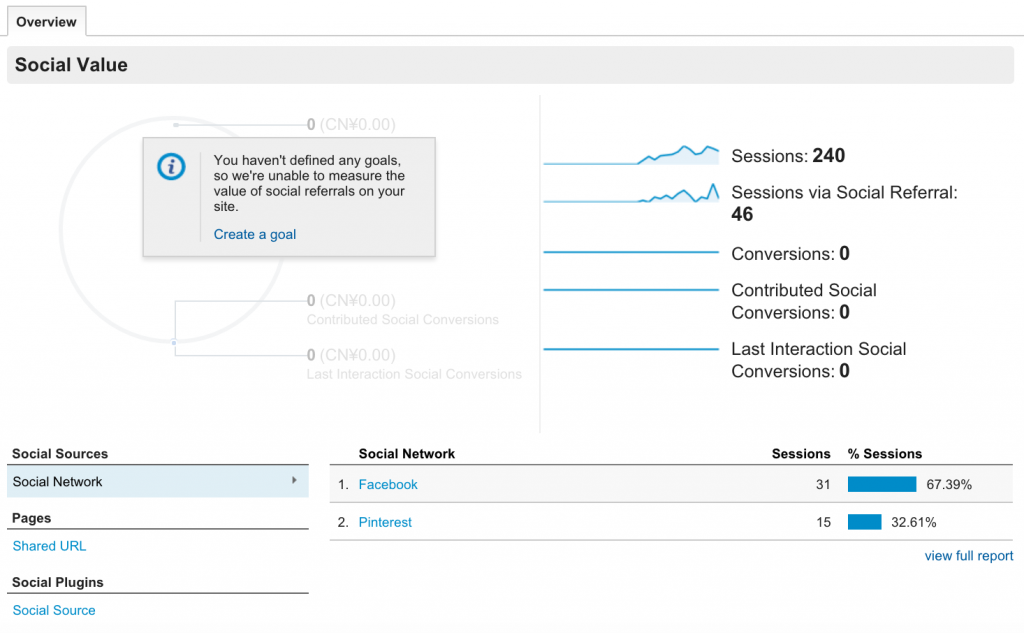 The overview will give you a breakdown of which social networks have directed traffic to your website. You can also click on "Shared URL" to see which pages your users visited. "Social Plugins" may not be relevant for every type of business, but it's worth keeping an eye on.
A few other areas to look at:
Network Referrals: Gives you a nice comparison breakdown of the total visits to your website vs. the ones from social channels.

Landing Pages: The Shared URL is highlighted as opposed to the social network.

Users Flow: The path that the website visitors from social media took and how they navigated throughout your website. The red lines indicate a drop-off, meaning that the visitor left the site on that page.
By spending a little bit of time analyzing the data in the Social Reporting area, you will start to notice trends and gain a better understanding of your audience. Pay special attention to which Social Networks are directing the most traffic to your website and which Pages are performing the best.
2)
Track Campaigns with UTM Codes
Underneath the Acquisition section in the left-hand navigation menu, you will see a section called Campaigns. This is where you will be able to track individual posts that will help you gain a better understanding of what content is and isn't working to meet your business goals.
Before you post a link to your Facebook, Twitter, and other social networks that leads back to your website, you should set up a UTM code. Luckily, Google has provided an easy tool to help you do this called The URL Builder. Since the URL will become very long, you may also want to use a URL shortener such as bit.ly to keep your post looking clean.
Once you have a few UTM Campaigns running, you will be able to measure your audience's behaviour on your website as a direct result of each specific post, tweet, etc. For a more in-depth guide to Google Analytics Campaigns visit the Google knowledge base.
3) Set Goals to Track Conversions
Conversions, that word we all love to hear. Google Analytics provides you with a way to measure your website conversions with Goals.
There are 4 different kinds of Goals you can create:
Destination: A specific page on your website that a user visits.

Duration: Length of time a user spends on your website or a specific page.

Event: A user downloads a .pdf, a user plays a video, etc.

Pages Per Session: A specific number of pages a user visits on your website in one session.
Follow these simple steps to start setting up goals for your website. Once set up, they will automatically appear throughout all of the Reporting sections, including Social.
Now that you have learned the basics of social reporting in Google Analytics, it's time to find out how well social media is performing for you. If you need help with your social media marketing strategy then get in touch with one of us today.