RTOWN Loyalty App – Beacons for local business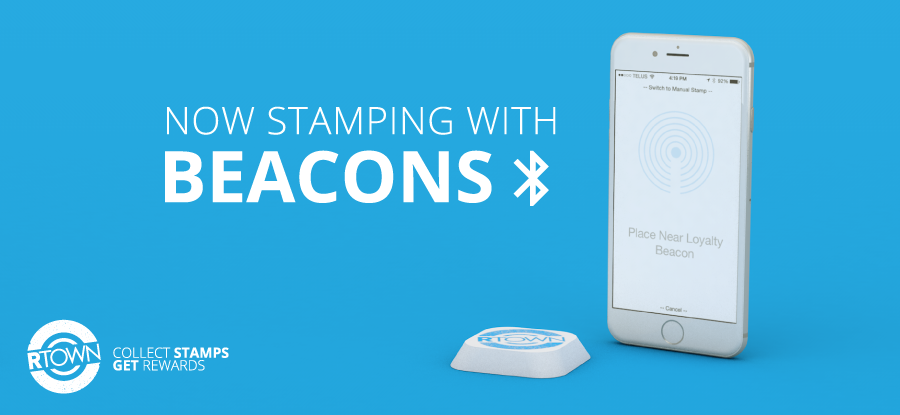 Beacon technology was heralded as the future of the retail experience. Elevating the way we experience and communicate with brands, giving priceless insights to retailers and putting commerce in our pockets. As with many technologies, the adoption rate has been painfully slow. The price of the hardware stays high and the cost to develop custom apps is even higher. If only there was a way for local businesses to tap into this technology and reap the benefits.
Beacon Stamping
Good news business owners! RTOWN has found a way to integrate beacon technology directly into our app so that your customers can collect stamps securely and wirelessly. Currently a customers would show your their phone to receive a stamp from your stamper, now all they need to do is place their device within 5cm of your beacon to receive a stamp. The system is secure and reliable, the beacons can even be hidden in POS collateral, stuck to pay terminals or carried in server's pockets. Wireless stamping is only the beginning.
Whole new App
Not only are we launching beacons, but we have rebuilt the app with an updated management system and user interface. The new look is cleaner whilst maintaining a throwback to the analog/vintage stamp cards. The backend is more stable, easier to navigate and packed with new features.
Notifications
You can now send notifications directly to your customers with enticing offers and updates from your business. If you're launching a new product or you just pulled a batch of cupcakes from the oven, you can let your customers know by sending them a short notification that appears directly on their phone and lock screen.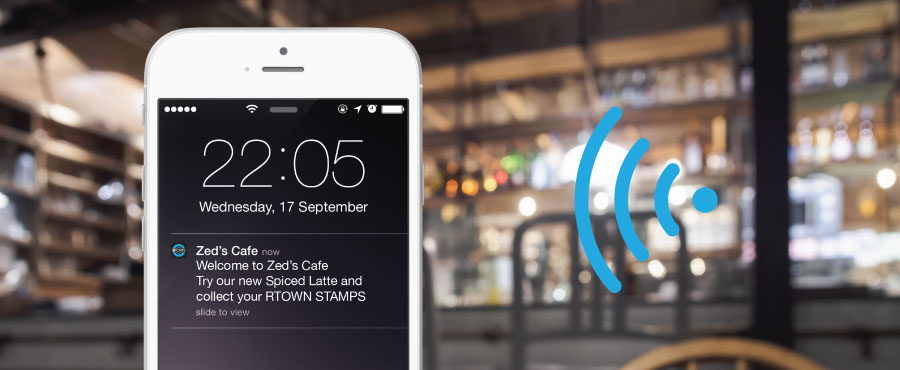 Proximity alerts (geofencing)
Your customers will now receive reminders as they walk past your business. A simple and incredibly effective way of letting users who have joined your offer know that you are open for business. Once they come in store and come in proximity of the beacon, you can configure a personal greeting and remind them to collect their stamps. Pretty cool, right?
Add these communication tools to the RTOWN feedback button within the app and you have a platform that is driving business, delivering feedback, helping boost your online reputation and delivering growth with measurable ROI. Yeah, we're really excited about this release and I think you should be too.
All supported by the usual RTOWN customer service and print collateral portal, it is now easier than ever to get beacon technology working in your business and creating a cutting edge brand experience.
Get in touch with your local digital media strategist today to learn more about this update and how you can get your hands on a beacon.