5 Ways to Grow your Fans and Get more Likes on Facebook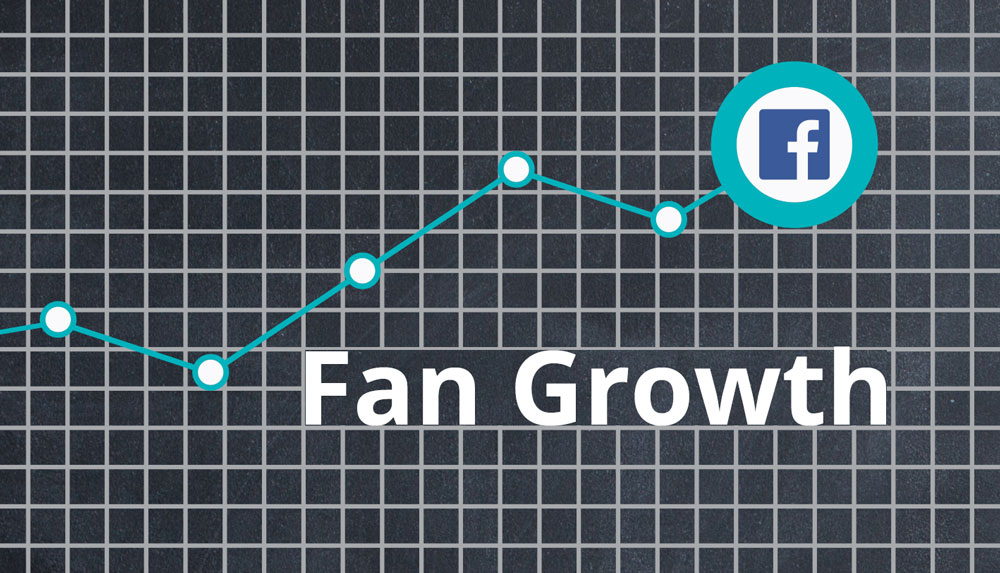 5 Ways to Grow your Fans and Get more Likes on Facebook
The number of Fans you have on your Facebook Page is one of those metrics that's hard to ignore. We all want to increase our Page Likes because we all want to reap the benefits of having a larger Fan base, such as:
Business legitimization and credibility.
The potential to reach larger audiences.
Leverage for partnerships and cross-promotions.
The following snapshot was taken from one of our client's Facebook Pages who passed us their Facebook reigns at the end of 2014. As you can see, the rate of growth in 2015 was much higher than the previous year.

In an effort to help you do the same, we'll share the 5 key strategies we found to be the most effective at boosting their Fan Page growth.
Key Strategies
1) Cross-Promotion
The first thing you should do after setting up your Facebook page is cross-promote it across all of your online and offline channels. You can do this by adding a link to your Page or a 'Like' button to your website, blog, and e-mail signature. You should also promote it on your other social media platforms and any offline materials such as business cards, menus, in-store signage, and traditional ads. Be sure that you include a compelling Call to Action that encourages people to Like your Page.
2) Quality Content
It should go without saying but just in case, you must only post quality content that your Fans will WANT to see. 'Sale'sy, spammy, or irrelevant content will not only deter people from Liking your Page, but it may even cause them to go one step further and Unlike your Page completely. On the flip side, when you post interesting content that adds value, your Fans will engage with it by Liking, commenting and sharing, causing it to go viral and have the potential to reach much larger audiences.
3) Exclusive Contests & Giveaways
Contests are one of the best ways to attract potential Fans' attention and is also a great way to remind your existing Fans why they should continue to Follow you. Set up the contest in such a way that only your Facebook Fans will be able to participate. For example, you could post daily clues on your Facebook Page leading to a prize hidden somewhere in your town. You can also post daily or weekly special offers that aren't announced on any other channels. That way, your Fans will feel like your Page is giving them added value, which is exactly what you want.
4) Partnerships
Another great way to use Facebook to your company's advantage is by reaching out to complimentary businesses or charities in your community. A great way to start is by Liking their Page as your Page and engaging with their content on a regular basis. Once you've built an informal relationship with them, you can send them a private message from your Page and ask if they are interested in talking about teaming up for future promotions. Sharing their content to you Page and vice versa is one way you can leverage each other's audiences. Another great way is to partner up and run a contest where you can give away a bigger prize and expose your brands to each other's Fans.
5) Facebook Ads
Last but certainly not least is the Facebook Advertising platform that we've now accepted as a necessary means to increase Page growth and boost post reach. For the breakdown on why you should be using Facebook Ads, read my blog post "Facebook Ads: To Spend or Not to Spend?" http://blog.rtown.ca/2015/04/facebook-ads-to-spend-or-not-to-spend/). If you go back and look at the Facebook Insights snapshot again, you'll notice a few big spikes in number of Fans over the course of 2015. For the most part, all of those big jumps correspond to the Facebook ad campaigns that were run throughout the year.
Next Steps
Once you've perfected your Facebook growth strategy you can focus on creating and curating quality, value-added content to your audience that will keep them wanting more. For more tips on how you can make social media work for your company, download our FREE E-Book: The Ultimate Guide to Social Media Marketing for Small Business.
If you have any more questions about growing your Facebook Fan Page or your company's social media strategy, be sure to schedule a free consultation with one of our Digital Media Strategists.