We subscribe for music, movies, cars, so why not marketing?
In today's fast paced, bite sized, cash-strapped world, we have developed an expectation of value and service like never before. How much "stuff" you have is no longer a measure of your success or happiness. The life you lead and the choices you make define you. As people and as businesses we have never had so much choice or ability to afford the services and experiences we really want.
In this article we're going to highlight examples of how subscription models have changed the way we work, shop and play; and discuss the ways that subscription marketing can boost the success of small businesses, by providing access to tools and services usually only available to those who could afford to hire an agency.
Choice & Competition
This social evolution has been supported and powered by the rise of the subscription economy. No need to own a car, just subscribe to a service and use one near by when you need it (Zip Car, Modo). Remember renting movies (netflix, Hulu), Music (Spotify, Apple, Amazon) or buying groceries (Hello Fresh). There is plenty of choice and healthy competition. You setup your payment once, forget about it and enjoy access to vast libraries of entertainment and networks of high quality services. What's not to love?
6.8 Billion potential subscribers on web, social and mobile – The Economist, 2014
Instant Access To New Products & Features
The subscription model has long surpassed just consumer channels. From fresh startups to big industry, businesses around the globe are leading with or pivoting into the model. A great example: Adobe disrupted their professional software industry by switching to subscriptions. They are now in a much healthier, happier place because of it. As an avid user and Adobe fan, I also enjoy the benefits of more frequent releases and features. I also get to spread the cost of industry leading software over many years. Everyone wins.
A New Revenue Model For Long-Term Growth
The benefits of a subscription model include predictable recurring revenue, a lower price point, greater flexibility with product development, great customer data and great relationships to go with it. In a way, the subscription model becomes the relationship model because your customer service and communication become a pillar of your business. This is also the inherent problem to the model, it is relatively easy for a customer to switch subscriptions and move their business elsewhere. So if you ignore your subscribers and data, they will leave you.
Traditional Marketing Options For Small Businesses
The marketing sector has been quick to pickup on subscriptions. However, most are Software as a Service (SaaS) setups that still require the business owner to have level of hands-on expertise, and a chunk of time, to setup and manage.
A restaurant owner who buys into a software service to manage their marketing would need to choose one of the following ways to manage their marketing:
a. spend their own time configuring, monitoring, and tweaking the software regularly – potentially taking their focus away from keeping the kitchen and front of house running smoothly
b. hire an in-house marketing pro to manage these tools for them.
c. go to an agency and engage them in the traditional sense, this can be costly and is no-longer a subscription.
Subscription Marketing: Affordable. Effective. Hands-off
All the benefits of the subscription model still apply in the marketing context. If anything, it helps shed light on traditionally grey areas of the sales and marketing process. Instead to paying a lump sum for a campaign and a strategy, watching it run and then figuring our your ROI; you have a low payment each month that you could tie directly to your revenue and sales, allowing you to make real time changes to strategy while watching the impressions and engagements steadily rise.
Essentially creating a real-time ROI for your business. Giving data driven insights into your growth on a monthly basis, not just when you sit down with your accountant.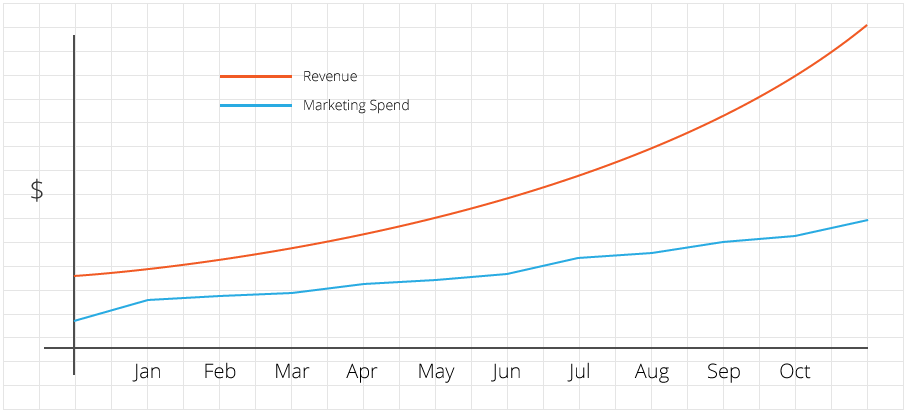 This graph is an illustration of how month-on-month you can monitor your margins and make informed business decisions. We could take that marketing spend line and break it down into its components parts: Social Media, Content, Videos, Online Reputation, Website traffic, Ad spends, Impressions, Loyalty Programs etc. That's the beauty of it. Each piece of your marketing strategy can be tracked on a monthly subscription. The data from each channel can be compiled, aligned, compared and held accountable to its contribution to your strategy on an overall monthly basis.
Here at RTOWN we are building a marketing and business intelligence environment where you can get all the benefits of an in-house marketing team, and the creative quality of an agency, all at an affordable monthly subscription.
You essentially rent our experts time and experience, while not having to worry about the overhead or training. It's their job to stay ahead of the game so by proxy, you do too.
No need to hire a web-developer and a social media expert to manage a loyalty program and collect customer feedback through paper cards. Forget about trying to find and respond to all your reviews online while trying to get your brother's friend to shoot you a video. Instead, enjoy face-to-face access to an expert in your community, who will listen to your ideas and needs as a business. They will then build you a tailored plan and a managed toolset to support your growth, and give you a graph that looks like the one above.
Taking the traditional agency and marketing model and adapting it into a subscription and relationship based world is the best way to bring normally expensive tools and put them to work for local businesses. It is an honest and transparent approach that we think will help level the digital playing field and give local business a bigger piece of the pie.
Get a Free Consultation from your local digital strategists and start taking advantage of the subscription marketing model.
[button-blue url="http://www.rtown.ca/free-consultation" target="_Blank" position="centre"]Get a Free Consultation[/button-blue]