Do you realize how important your online reputation is?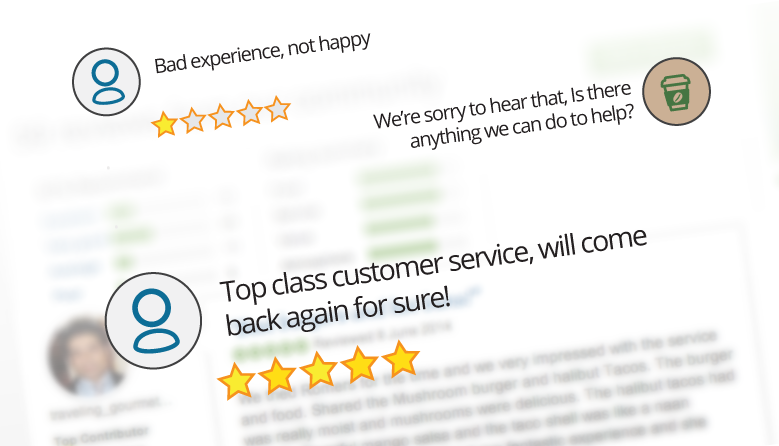 Are you tired of having to keep up with your Yelp reviews, Google+ page, and Facebook comments?
The task of maintaining these online platforms can seem daunting but it is also incredibly important.
Your company's reputation is vital to your business. With so many different services, products, or restaurants to choose from, people are turning to online reputation sites and reviews more and more as a deciding factor when purchasing. And although these review tools can be used irresponsibly at times, they can also make a huge impact on your business. Have your online reputation work for you, not against you:
Build Relationships and Trust
Having the trust of your customers is a major component of success. Imagine having the trust of your potential customers before they even walk through the door. People no longer discuss their purchase experiences with just friends and family, they discuss their positive or negative experiences with the whole Internet. Ensuring that potential customers see the great experiences other customers have had is a fantastic form of advertising for your business. On the other hand, you should be concerned about negative content spreading like wildfire online. Make sure your internal processes are in place to ensure customers are leaving happy, writing about it online, and helping you gain trust of new customers.
Discover and Improve
Listening and monitoring to what people are saying about you is the best way to improve your business. Review sites act as a free focus group for you to gain valuable feedback from past customers. If a customer is slandering your business online, it gives you an opportunity to take the proper steps to gain their trust back and also improve upon your service so it doesn't happen again. Take time to read through reviews, pull out reoccurring problems and improve them. 95% of unhappy customers say they will return if a problem is resolved, they are also more likely to share their experience with friends. By reading through reviews regularly, you also get the benefit of seeing what your customers love about your business, so you can continue making them happy.
Increase Sales
More and more people are turning to the Internet to do their research on brands, services, and products before making that final purchasing decision. Take advantage of this and make sure your potential customers can find you online and can find exactly what they're looking for. If your address, business hours, or menu is wrong, you are risking losing out on a potential sale.

Scouring Reputation Sites can be time consuming, especially for a small business owner. That's why we offer a Reputation Management product. Our team stays on top of reviews and listings, and we can also help generate reviews that stay private for your business. Using our system, if a review is left that is 3 stars or less, it comes straight to your inbox and not online. If it's 4 stars or more, a prompt is given to share it with the world. The net effect of this is keeping negative reviews private for you to manage and more positive reviews online. You can rest easy and focus on running your business while we focus on your online reputation.