The importance of a mobile website for photography businesses
In my previous article I outlined what was expected from the change to Google's algorithm and how it was targeted at giving preferential rankings to mobile friendly websites. The one thing no one knew or could predict with confidence, was the rate of the impact this change would make to Google page rankings.
Google is famously secretive about the algorithm. They are fighting in various courts around the world to maintain parts of it. There is no definitive answer to the rate of drop off or the ability to bounce back, only a group of factors that will effect different pages in different ways.
To better illustrate this; I have selected a vertical that we have noticed particular damage to the page rankings of in the week following the change. Photographers. With photography websites being inherently visual and image focused, they often rely on scripting and plugins to manage photos and create a more dynamic user experience. Without the proper implementation, theses scripts can cause the new algorithm to penalize a page even if it is responsive. Ensuring the GoogleBot can reach all scripting and styling resources is a must to maintain rankings.
Images and photographs are also very important to mobile friendliness. They must resize and/or crop to fit the relevant screen size. Pinch zooming and panning of photographs, no matter how beautiful they might be, will get a page penalized.
The speed at which a site is delivered to a device is also a factor. If a photography website has lots of large images not compressed properly, the page speed can suffer and so will the page ranking. Using images prepared properly and a Content Management System (CMS) to deliver the right image to the right device when needed will maintain quality, intent and page rank.
All is not lost if you're a photographer trying to build a beautiful website. If you follow the rules you can still have a great web experience for your photos and rank competitively in Google. We have recently launched 2 photography websites for customers that are performing brilliantly.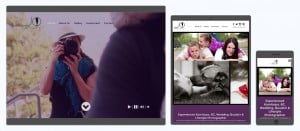 Jo LeFlufy Photography Takes advantage of a dynamic video header combined with responsive image galleries to create an engaging site. All mobile friendly of course NBD Creative is another photography site that we are excited to launch soon.
This site takes advantage of powerful full screen images and video backgrounds combined with impactful typography to delivery a high quality web experience. It does this seamlessly across all devices and take advantage of optimal google performance. One thing we do know for sure is that you can get your ranking back if you follow the guidelines, make changes to your site and perform a couple of tricks to get the GoogleBot back crawling your pages as quickly as possible. If this sounds like too much for you, RTOWN can get you up and running and back in the game quickly.